A new firmware is now available for the PLEXTALK Pocket PTP1 in Danish, Norwegian and Italian.
Those who already have a Pocket can download it from free on our website.
→ Firmware Upgrades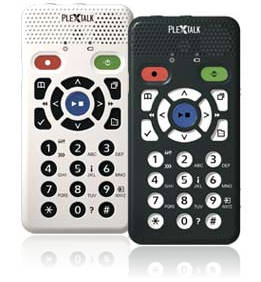 Overview of the new functions in Version 5.03 for PLEXTALK Pocket:
Wireless network configuration: when the wireless access point is configured in the Pocket, the wireless connection will subsequently be made automatically. Also, with the network function the user can find a free access point and connect immediately.
PLEXTALK provides a free of charge software, Plextalk Transfer software that allows the user to organize the content of the SD-card in the Pocket. The Plextalk Transfer software can automatically detect the Pocket connection. With an easy interface, you can select DAISY, Audio books, Music, Podcast, Web Radio etc. from a computer system and transfer them onto the Pocket.
→ Software Downloads
This firmware version supports more formats: Microsoft Word documents (.doc and .docx) which are read by the internal Speech synthesizer. Support for PDTB2 protected DAISY content is also included.
Category browsing: the user can now select the title from a category more easily. The Pocket allows choosing from DAISY, Music, Audio books, Text, Podcasts, Web Radio and recordings. Only categories for which content is available are announced. It is also possible for the user to navigate by folder.
Navigation in a title: as well as the existing navigation levels, the user can also navigate through a DAISY or Audio book in jumps of 30 seconds or 10 minutes.